<$BlogRSDUrl$>




Tuesday, January 18, 2005
ABC OKs Night Stalker Pilot


ABC has ordered a pilot of an updated Night Stalker series from former The X-Files executive producer Frank Spotnitz, Variety reported. The show will rework the classic 1970s ABC show Kolchak: The Night Stalker, which detailed a hard-boiled journalist's investigations into freakish occurrences, the trade paper reported.

Ironically, The X-Files creator Chris Carter has said he was inspired in part by the original Night Stalker series, which starred Darren McGavin.

The Return of Carl Kolchak


Paranormal Investigator
The Millennial Abyss
HOME
AIRDATES
EPISODES
LINKS
FAQ
ESSAYS
FICTION
DOWNLOAD
Season Two Now Available on DVD
Millennium: The Complete Second Season , the second volume in the Millennium DVD collection, hits store shelves in the United States and Canada today. The Region 1 box set contains all twenty-three episodes of the show's remarkable second year and offers a total of 989 minutes. Executive Producers Glen Morgan and James Wong guided Frank Black on a brave new journey in the show's second year, exploring dark mythologies and twisted conspiracies. These stunning episodes, many of them among the best the series ever produced, have been completely unavailable to Americans since the turn of the millennium itself. The six-disc collection also contains never-before-seen documentaries, featurettes, and commentaries offering viewers a glimpse behind the scenes. "With Morgan and Wong at the helm, season two further explores the dark and fantastical, but becomes a lot more surreal, but no less fascinating," declares Amazon.com's editorial review. "So whether you are drawn to stories about dark serial killers, the ongoing tales of conspiracies, familiar comedies, or the bizarre, season two has something for you." Visit the Abyss DVD page to review the set's complete features or to learn more about the collection's predecessor and successor. Millennium: The Complete Second Season can be found at such retailers as Amazon.com, Best Buy, and Wal-Mart.
~~~~~~~~~
Official Millennium Site Expanded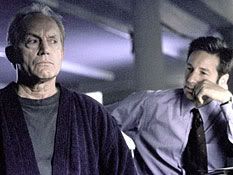 With the release of Millennium: The Complete Second Season , Fox Home Entertainment has updated and expanded their official website dedicated to promoting the show's release on DVD. The revised site offers a new photo gallery, second season press releases, and a number of new downloads including wallpaper and AIM user icons. It also presents the same lavish, if gory, decoration and animation we've come to expect, complete with the startling, random flashes of Frank Black's visions. Millennium: The Complete Second will be available on Region 1 DVD beginning January 4th. Visit the official Millennium website to explore the new online features or to pre-order the collection.

~~~~~~~

Archives
January 2005 February 2005 March 2005 April 2005 May 2005 June 2005 July 2005 August 2005 September 2005 October 2005 November 2005 December 2005 January 2006 February 2006 March 2006 April 2006 May 2006 June 2006 July 2006 September 2006 October 2006 November 2006 December 2006 May 2007 August 2007 October 2007 December 2008 August 2011

MINDS HAVE BEEN ALTERED WHILE READING THIS PAGE...