<$BlogRSDUrl$>




Friday, January 21, 2005
Ancient sunken islands found off California
Sandy beaches sank into Pacific millions of years ago

An image from the ROV Tiburon shows deep-sea beach sand and lava that appears to have been sculpted by waves — along a shore now nearly a half-mile (680 meters) below the surface.

Sandy beaches are plentiful along the California coast, but not many are found below the ocean. Scientists just added three to the list.

What were once volcanic islands off the coast of California now sit at the bottom of sea.

With the help of a robotic submersible, a team of researchers captured images of long-sunken sandy beaches at depths exceeding 2,000 feet (610 meters). The video images and rock samples taken from ocean bottom indicate that the beaches were associated with volcanoes that used to poke above the surface.

Map (r) shows three seamounts that appear to have been volcanic islands between 10 million and 14 million years ago.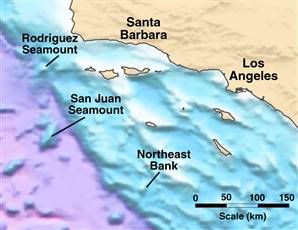 The team from the Monterey Bay Aquarium Research Institute, led by volcanologist David Clague, guided the remotely operated vehicle Tiburon, an unmanned submersible, and took the first video images of the Southern California seamounts. Images revealed wave-cut rock surfaces, eroded beach sand and rounded pebbles — all evidence that these seamounts were once islands.

"They were probably islands for a million years or less and have been submerged for about the last 10 to 14 million years," Clague told LiveScience, adding that his team hasn't yet finished dating all of the samples hauled up from below. (cont.)





Archives
January 2005 February 2005 March 2005 April 2005 May 2005 June 2005 July 2005 August 2005 September 2005 October 2005 November 2005 December 2005 January 2006 February 2006 March 2006 April 2006 May 2006 June 2006 July 2006 September 2006 October 2006 November 2006 December 2006 May 2007 August 2007 October 2007 December 2008 August 2011

MINDS HAVE BEEN ALTERED WHILE READING THIS PAGE...