Hey kids....It's Health Food Update Time !
100-pound woman downs 6-pound burger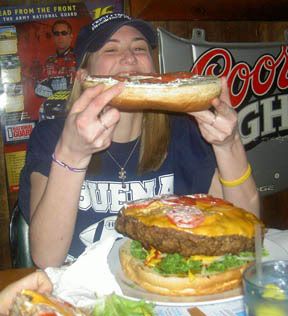 Kate Stelnick, 19, of Princeton, N.J., who weighs just 100 pounds, on Wednesday became the first person to eat a six-pound hamburger - and five pounds of fixins' - within three hours.

Denny's Beer Barrel Pub got nationwide attention when it introduced the massive hamburger, which is loaded with six pounds of meat, one large onion, two whole tomatoes, one half head of lettuce, 1 1/4 pounds of cheese, top and bottom buns, and a cup each of mayonnaise, ketchup, mustard, relish, banana peppers and some pickles. (cont.)





Demand for KFC Soaring in China






LOUISVILLE, Ky. - China's relentless appetite for the colonel's chicken has KFC on a building boom in the world's most populous country, with 1,200 locations, soaring profits and a menu that mixes in bamboo shoots and lotus roots.

"In many parts of China, the local municipal governments actually view the arrival of a KFC as a sign of the city coming of age," Su said in a phone interview from China.
Nisgore (left) and DW...take a break for their one allotted candy bar per day health regime !