<$BlogRSDUrl$>




Friday, February 25, 2005
Thursday, February 24, 2005
Wednesday, February 23, 2005
Tuesday, February 22, 2005
Monday, February 21, 2005
Sunday, February 20, 2005
"When the going gets weird, the weird turn pro."
Hunter S. Thompson
R.I.P Dr Hunter S. Thompson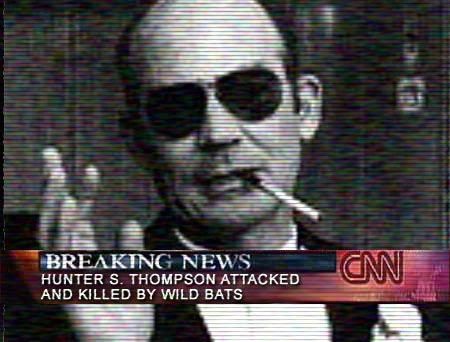 Hunter S. Thompson's Fears and Loathings



Hunter S. Thompson -- journalist, gun-collector, enemy of the state -- committed suicide on Sunday at the age of 67. Most famous for his book about a road-trip/drug orgy through the Nevada desert, "Fear and Loathing in Las Vegas," he single-handedly invented "gonzo" journalism. We present some links to his writings, interviews and a eulogy.

Hunter S. Thompson was known far and wide as a bit of a crank, but his end didn't come as many had likely imagined. The lifestyle portrayed in his numerous writings -- most famously in Fear and Loathing in Las Vegas -- might have led to the assumption that a drug overdose lay in store for him somewhere down the road, or perhaps something more glamorous -- a motorcycle accident, a mishap with a powerboat. In the end, it was something prosaic and tragic: the author committed suicide on Sunday at his home in Colordao. A statement released on behalf of his son, Juan, and wife, Anita, said: "Hunter prized his privacy and we ask that his friends and admirers respect that privacy as well as that of his family." For his many fans, Thompson's death comes as a shock. And he leaves behind a vast body of writing, characterized primarily by his personal style of journalism -- known as "gonzo journalism" -- where he, as the reporter, took central stage. His piece "Fear and Loathing in Elko," a personal essay in which Supreme Court Justice Clarence Thomas makes an appearance, can be read here. He was also a sharp tongued critic of the George W. Bush administration. Finally, his New York Times obituary can be read here.





Hunter S. Thompson: Lost Gonzo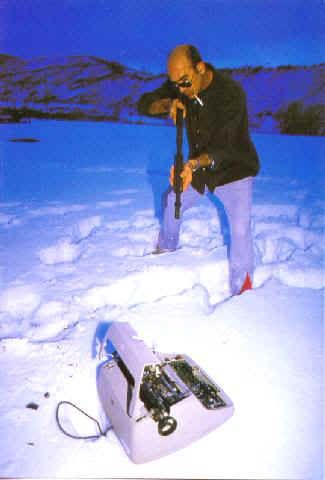 I am stunned and deeply saddened, but no one should be shocked that Hunter S. Thompson took his own life Sunday night with a gunshot at his Woody Creek, Colorado home.

What do you think "gonzo" means? It means fueled by adrenaline, drugs, riding an idea out until it dead-ends or flames out, it means writing and living with wreckless abandon, it means hoping you die before you get old - give or take a decade or two. It means Hunter S. Thompson alive, married, and writing for ESPN is just too weird to be true - and now it isn't.

My 17 year-old son -- exactly my age when the series began in '75 -- and I watched the two-hour special about the first five years of Saturday Night Live last night and that show did to television what Thompson did to writing: they used themselves and their experiences as the foundation of both narrative and a platform for biting, often slashing social commentary riding the rodeo bull of wired experience until the bell rang. This was very cool for those experiencing the fruits of this labor, and was surely a trip for those who lived it, but for some the bell never rang and they didn't survive. When you live on the edge, odds are some are going to fall off.

I wonder if Thompson watched this show last night, and if so what affect did it have on him? Recall that SNL's Bill Murray played Thompson in Where the Buffalo Roam. Who else has had both Murray and Johnny Depp (Fear and Loathing in Las Vegas) play them in film?

Of the most notorious celebrants of the la vida loca from the '60s and '70s, probably only Keith Richards's longevity is a greater surprise than Thompson's, and now Keith has no competition at all.
The Edge... there is no honest way to explain it because the only people who really know where it is are the ones who have gone over.
Hunter S. Thompson
Books by:
Hunter S. Thompson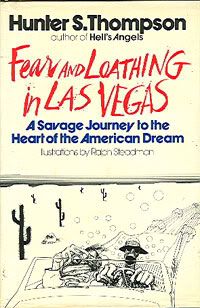 Editorial Reviews
Amazon.com Reviews
Heralded as the "best book on the dope decade" by the New York Times Book Review, Hunter S. Thompson's documented drug orgy through Las Vegas would no doubt leave Nancy Reagan blushing and D.A.R.E. founders rethinking their motto. Under the pseudonym of Raoul Duke, Thompson travels with his Samoan attorney, Dr. Gonzo, in a souped-up convertible dubbed the "Great Red Shark." In its trunk, they stow "two bags of grass, seventy-five pellets of mescaline, five sheets of high-powered blotter acid, a salt shaker half-full of cocaine and a whole galaxy of multicolored uppers, downers, screamers, laughers.... A quart of tequila, a quart of rum, a case of Budweiser, a pint of raw ether and two dozen amyls," which they manage to consume during their short tour.

On assignment from a sports magazine to cover "the fabulous Mint 400"--a free-for-all biker's race in the heart of the Nevada desert--the drug-a-delic duo stumbles through Vegas in hallucinatory hopes of finding the American dream (two truck-stop waitresses tell them it's nearby, but can't remember if it's on the right or the left). They of course never get the story, but they do commit the only sins in Vegas: "burning the locals, abusing the tourists, terrifying the help." For Thompson to remember and pen his experiences with such clarity and wit is nothing short of a miracle; an impressive feat no matter how one feels about the subject matter. A first-rate sensibility twinger, Fear and Loathing in Las Vegas is a pop-culture classic, an icon of an era past, and a nugget of pure comedic genius. --Rebekah Warren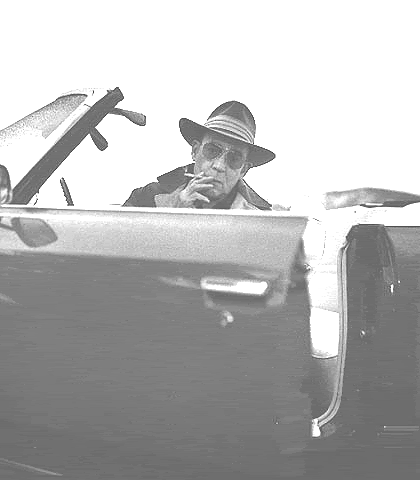 "I wouldn't recommend sex, drugs or insanity for everyone, but they've always worked for me."-- Hunter S. Thompson
Thursday, February 17, 2005
Tuesday, February 15, 2005
Monday, February 14, 2005
Saturday, February 12, 2005
Thursday, February 10, 2005
Wednesday, February 09, 2005
Archives
January 2005 February 2005 March 2005 April 2005 May 2005 June 2005 July 2005 August 2005 September 2005 October 2005 November 2005 December 2005 January 2006 February 2006 March 2006 April 2006 May 2006 June 2006 July 2006 September 2006 October 2006 November 2006 December 2006 May 2007 August 2007 October 2007 December 2008 August 2011

MINDS HAVE BEEN ALTERED WHILE READING THIS PAGE...