Code World - Rafiki
Home of Code World,and exploring the genetic code.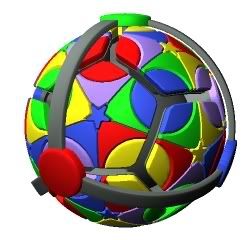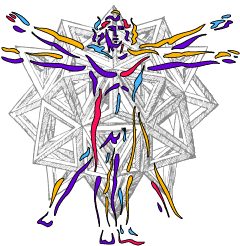 Most of the great thinkers from antiquity have incisively penetrated polyhedra and their symmetric properties. Since many early number systems were inferior by today's standards, the ancients concentrated on shapes, proportions and spatial relationships. On the other hand, today we have robust numerical paradigms, but they are primarily wedded to cubic symmetry, so we have unwittingly become a cube-centric culture of thinkers. The ubiquity of the term '3D' belies the point. Consequently, our mental skills regarding proportions and spatial relationships are atrophied, and the ancients were undeniably superior to us in this regard. They appreciated better the basic power of geometry in forming an intellectual view of the universe, and they regarded it a sublime pursuit.
This website is a collection of fanciful ramblings about symmetry and the genetic code. We hope you enjoy it. There is a lot of material here, and perhaps it strays a bit more than it should. To cut to the chase, here are some stunning conclusions about the genetic code.
The best way to view the genetic code and all of the relationships between its component parts is on the surface of a sphere.

For protein translation, the axiom "primary sequence determines tertiary structure" is false. A single primary sequence can and does fold into more than one tertiary structure under physiologic conditions.

The genetic code can and does translate more molecular information from mRNA to protein than just primary sequence.

A complete understanding of the genetic code must include the role played by tRNA during protein translation. Different sets of tRNA will yield different translations of molecular information.

The genetic code can deliver stereochemical information to peptide bond formation via tRNA-tRNA interaction.

The genetic code has an overall symmetry such that common transformations of existing exons will yield more "protein-like" polypeptides than will a random nucleotide sequence. Frameshifts, complementary strands, even inversions of existing protein coding sequences have a much higher chance of also becoming viable proteins than do random nucleotide sequences. This is due to the remarkably complex overall symmetry of codon assignments, and it is a benefit to living systems in that it greatly speeds up the search for new protein morphologies. A primary function of the genetic code is to facilitate the rapid and efficient search for new protein morphologies.