Dr. Quantum: A User's Guide to Your Universe
by Fred Allen Wolf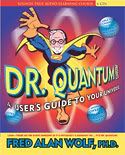 "Matter can move backward and forward in time. Objects may be in two places at once. Simply looking at an event can alter it instantaneously." Quantum physics is an astounding (and mind-boggling) field of science—but can you actually use it to change your life? The answer, teaches Dr. Quantum, is absolutely yes. On A User's Guide to Your Universe, Dr. Quantum—who goes by day as mild-mannered physicist Dr. Fred Alan Wolf—teaches that anyone can understand quantum physics. What's more, it is the most useful, immediate, and relevant kind of science you can learn to profoundly affect your day-to-day life.



Your Mind is a Quantum Engine—Are You Ready to Fire It Up?