<$BlogRSDUrl$>




Thursday, December 01, 2005
Sand You Can Eat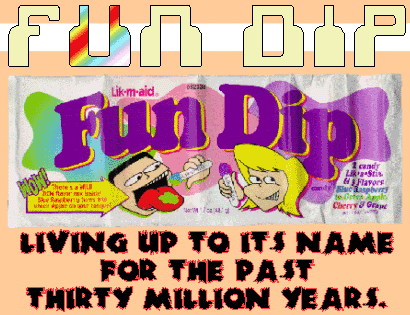 What is Fun Dip, you ask? It's powdery sugardust you eat off of edible chalk. It's packets of goodness in various fruit flavors. It's a treat seemingly forged exclusively for kings. It's anything you want it to be. It's Fun Dip.
Honestly, I didn't care. The sixty-seven packets of sugar threw me on trips so intense, I barely knew where I was anyway. Most of the time, I thought I was in an alien zoo where all the strange, purple creatures were forced to don clothing advertising the local locksmiths and tackle shops while throwing around spiked maces drenched in fire. I'm not sure what's in Fun Dip, but it makes magical things happen. Plus, it's sand you can eat.

Should I say it again?

SAND YOU CAN EAT.

Archives
January 2005 February 2005 March 2005 April 2005 May 2005 June 2005 July 2005 August 2005 September 2005 October 2005 November 2005 December 2005 January 2006 February 2006 March 2006 April 2006 May 2006 June 2006 July 2006 September 2006 October 2006 November 2006 December 2006 May 2007 August 2007 October 2007 December 2008 August 2011

MINDS HAVE BEEN ALTERED WHILE READING THIS PAGE...