The Dead Sea Scrolls Deception
By Michael Baigent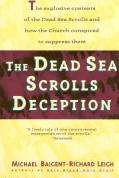 The Dead Sea Scrolls Deception is a book that details the explosive contents of the Dead Sea Scrolls and how the Church conspired to suppress them. Another startling fact was that the type of society that the Essenes had practiced for 200 years was very similiar to early Christianity recorded in the book of Acts. This important scriptural document shows that the early christian sect lived in communities and encouraged its members to hold all of its possesions in common, just like the Essenes did for the previous two centuries!

Another amazing discovery was made in 1923. Edmond Bordeaux Szekely was able to discover Essene documents in the secret archives of the Vatican. In his book The Discovery of the Essene Gospel of Peace, he tells the story of how two chess players helped him meet the renowned Msgr. Angelo Mercati, Prefect of the Vatican Archives. He told the Prefect of his desire to learn all he could of the Saint called Francis. He was allowed to research the vast 25 miles of bookshelves containing scrolls, parchments, paper manuscripts and codices. Within the labarinth he found an aramaic translation of The Essene Gospel of Peace as well as the The Essene Book of Revelation. His research led him to seek out the Benedictine monastary of Monte Cassino. He was allowed, because of a letter of Msgr. had written granting access to the large vitrines in the Scriptorium. There he found the original Hebrew codices of The Essene Gospel of Peace, the source for the Aramaic version found at the secret Vatican Archives.
---