<$BlogRSDUrl$>




Thursday, April 06, 2006
Chaos=Order:

Physicists make baffling discovery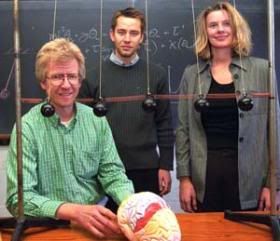 According to a computational study conducted by a group of physicists at Washington University in St. Louis, one may create order by introducing disorder.

While working on their model – a network of interconnected pendulums, or "oscillators" – the researchers noticed that when driven by ordered forces the various pendulums behaved chaotically and swung out of sync like a group of intoxicated synchronized swimmers. This was unexpected – shouldn't synchronized forces yield synchronized pendulums?

But then came the real surprise: When they introduced disorder – forces were applied at random to each oscillator – the system became ordered and synchronized.



Archives
January 2005 February 2005 March 2005 April 2005 May 2005 June 2005 July 2005 August 2005 September 2005 October 2005 November 2005 December 2005 January 2006 February 2006 March 2006 April 2006 May 2006 June 2006 July 2006 September 2006 October 2006 November 2006 December 2006 May 2007 August 2007 October 2007 December 2008 August 2011

MINDS HAVE BEEN ALTERED WHILE READING THIS PAGE...