<$BlogRSDUrl$>




Tuesday, December 30, 2008
I am ...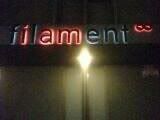 People may mean many things when they ask for a sign as I did. Trying to be completely open to whatever may show up and interpreting it as a sign. But our old friend sure does have a sense of humor. haha... I asked for a sign and well that's exactly what I got.
On the way to the gym last night I encountered yet another sign. I took the wrong freeway exit and turned down an alley to turn around, and at then end of the street was this sign. Again several of the lights were out with the three remaining lights conveying a very different message.
hmmm... the game's afoot... boys... ;)

Wednesday, December 24, 2008
A message from the Blind Spot



In a strange and wonderful synchronicity, the following name appeared lit up in neon on a 'boyga joint'. Hmmm... ;) Possibly a funny message to let us all know that a dear old friend has found and made it past the 'golden arches'?? or perhaps he just always wanted to see his name in neon lights ;) ... or maybe even a change of preference to let us all know that mcD's ain't so bad after all. In any case when you ask for a message and a sorely missed friend's name shows up in neon lights... well thats always a good sign!! Seems the game isn't over after all, but only just beginning...

Labels: mcdonald's Don
Archives
January 2005 February 2005 March 2005 April 2005 May 2005 June 2005 July 2005 August 2005 September 2005 October 2005 November 2005 December 2005 January 2006 February 2006 March 2006 April 2006 May 2006 June 2006 July 2006 September 2006 October 2006 November 2006 December 2006 May 2007 August 2007 October 2007 December 2008 August 2011

MINDS HAVE BEEN ALTERED WHILE READING THIS PAGE...